News
Discovery of a new particle odderon and Ukrainian scientists
Discovery of a new particle odderon and Ukrainian scientists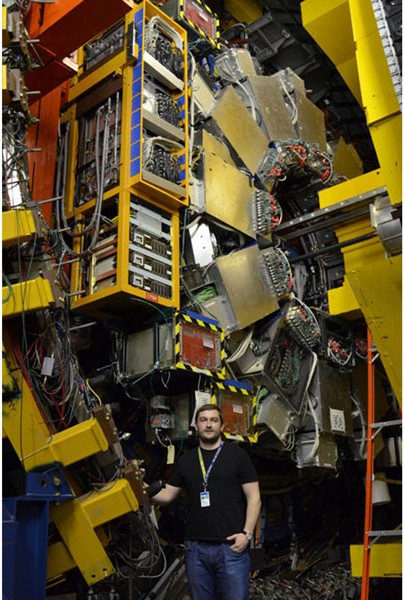 On March 16, 2021, the European Organization for Nuclear Research (CERN) together with the DØ collaboration  of the Fermilab Research Center (USA) have announced the discovery of the odderon – an elusive state of three fundamental particles called gluons that was predicted almost 50 years ago.
The results of the research, which experimentally confirm the existence of a new state of three interconnected fundamental particles of quantum chromodynamics, were published on March 5, 2021 during a meeting at CERN and published as a preprint in December 2020.
For us an interesting part is that, in addition to a large number of scientists from all around the world, this study involved scientists from Ukraine specialised in high energy physics research: Doctor of Physics, Professor Vladimir Aushev, PhD Olga Gogota and the founder of Cyber ​​Unit Technologies Ph.D. Physics Sciences Yegor Aushev. And it is specially pleasant to note that Yegor Aushev successfully graduated in 2014 the postgraduate course at department of Applied Physics of Igor Sikorsky Kyiv Polytechnic Institute (supervisor, Ph.D., Professor Bogorosh OT, research direction - physics of the nucleus, elementary particles and high energies) and .
The editorial staff of AIN.UA contacted Ukrainian scientists Volodymyr and Yegor Aushev, and in the corresponding article you can find out what they told about the discovery and the participation of the Ukrainian group.
Let me take a brief quote illustrating the discovery: "If we try to transfer the analogy from the microworld where this state is observed to our ordinary world, it would be like, for example, the discovery of a being that consists only of light and does not contain any atoms or electron »
At the photo Yegor Aushev near the equipment of the particle accelerator.
Below in the photo gallery are parts of the TOTEM experiment equipment in the Large Hadron Collider tunnel.
---
---
Rating is available to Members only.
Please
Login
to vote.